Some of you may know I have the project of recreating a full 1890s wardrobe. Not really full, with dozens of drawers and shoes (yes, they were counted by the dozen among the wealthy), more something to spend a whole weekend without having to change.
Nothing too hard, one may say. One dress, two sets of underwear and you're done. Right?
Not so much. You'd be ok if you were representing the lower class. And again even most of them had the sunday dress. But I wanted a quite high class wardrobe. Maybe not too high class, but something like that. After all, to remake a queen's wardrobe you need a queen's budget. And as many seamstresses as the House of Worth had. So…taking into consideration my way more moderate budget, and my extremely limited pair of hands- two- I started designing and making.
The dress I feared the most was the evening dress.
Because I started asking a bit too much of myself, as usual.
I wanted something I had dreamt about for a long time. One of those dream-dresses for those who do 1890s.And my first choice was the dress in the Carolina Sommaruga maraini portrait by Vittorio Corcos. I saw the painting years ago, before I started sewing. And fell in love with it. Something clicked, in my heart.
So I went seeing the portrait again. Drove four hours to see it again and to capture all the details. And there are no wide size prints and you can't take pictures of it. I asked the swiss foundation that owns it if there was some way to get a high resolution image…and they never replied.
I even had the sortie de soir (evening coat) made by Dario Princiotta. i bought the tulle, the sequins, the beads, the gimp and the velvet ribbon. The embroidery frame and the tambour hooks, and made the mockup for the bodice.
And then I got several samples of silk duchesse satin with a shade that wouldn't work and the project was put on hold. Still is.
What happened then?
I had an other love. The Butterfly dress from the Bunka Gakuen museum in Tokyo.
In May 2017 I went to Tokyo, and as we had some time left, I wanted to see the butterfly dress in person. But the museum was closed that day. And they never replied to my emails.
However it wasn't an evening gown. It's a wedding dress. And I couldn't figure out how to make it work as an evening dress.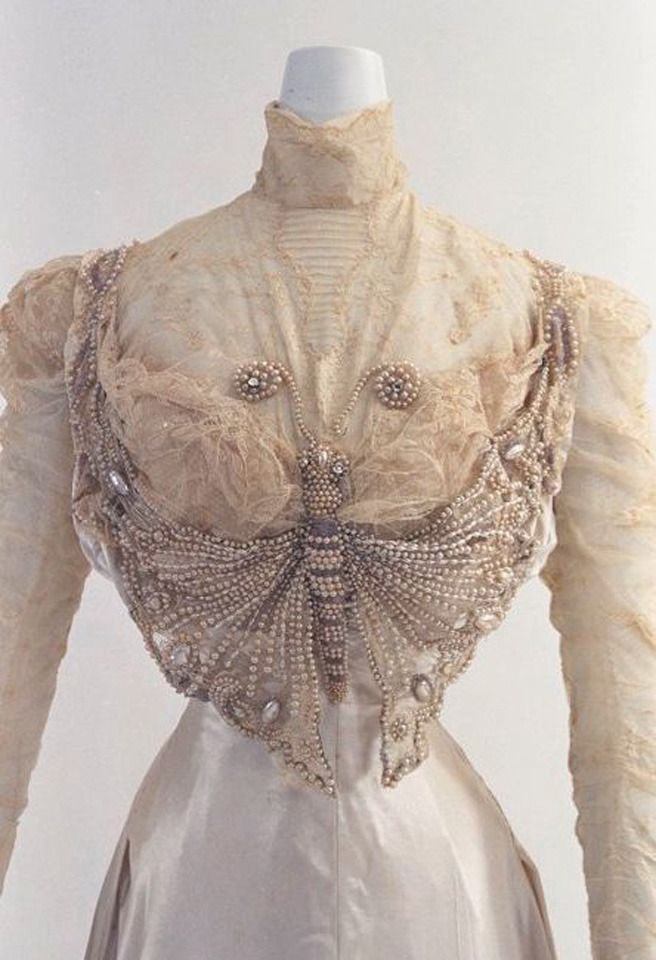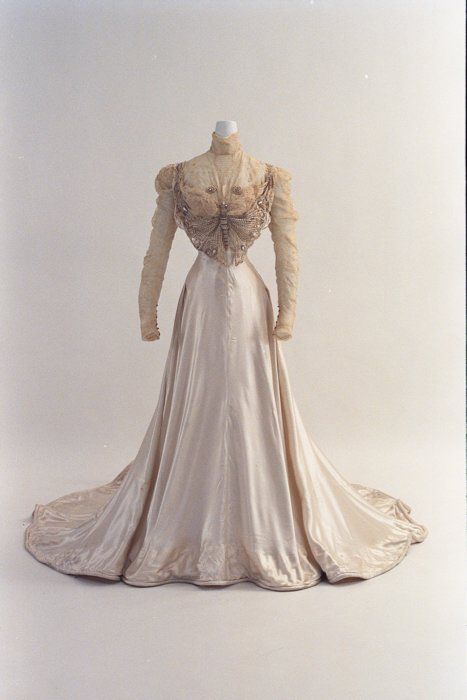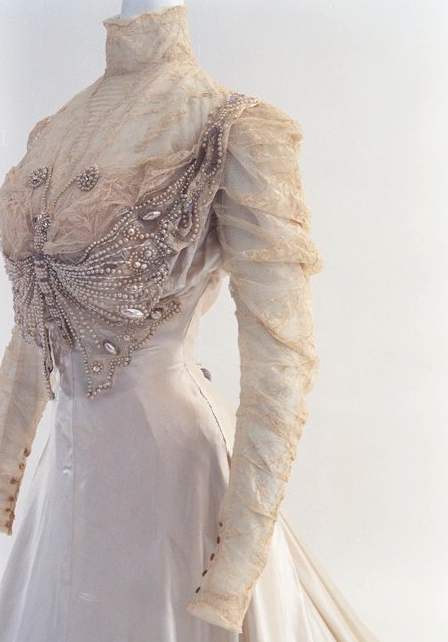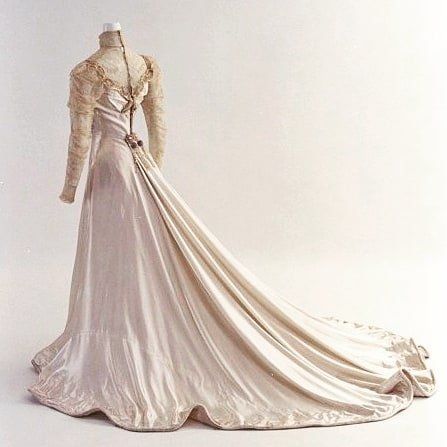 And that was until I got to a local shop.
It's not very local, it takes me almost one hour to get there, and I usually don't find many things. but I had to accompany a friend. And I know I always get home with stuff I do not need. But I went anyway.
And I saw it. In one of those wide containers with chheaper priced leftovers of unknown origin, there was it.
A gigantic piece of beige cotton-something-blend-ish thing. 3m wide, 4m long. Shiny as mercury. Shinier than silk duchesse, but not in a bad, synthetic way.
And it costed less than 30 euros. Enugh to make more than one dress. I didn't just take it, I asked whenere I could get more of it. They didn't know. But, anyway, I got home with my treasure.
It was beige, not pink-lilac. But after all I already wanted to make an evening version of a wedding dress…for that price it was more than worth it. So I decided I would have created my own version of the dress, with some similar and some different things.
It was time to take in exam how the original was built.
And it was tricky. Because you usually have a waist seam, two or three darts per side of the front bodice, two to three pieces for each side of the back bodice. This only has four panels. Four seams: two at the sides, one at the front, one at the back. The original was also made from a narrower fabric, and had two pieces at the side of the skirt to complete the pattern. They became more eveident as the dress has been hung for long, until the bias parts yeilded and deformed a bit. But I guess it was much less visible in the original. So, given the blissful width of the fabric piece I had, I chose not to mimic the original in this.
What to do? That style of cut was suitable for someone with a tiny waist and a large bust, but narrow hips. While I have larger hips. And the curve between hips and waist in me would have been deeper, creating unpleasing folds.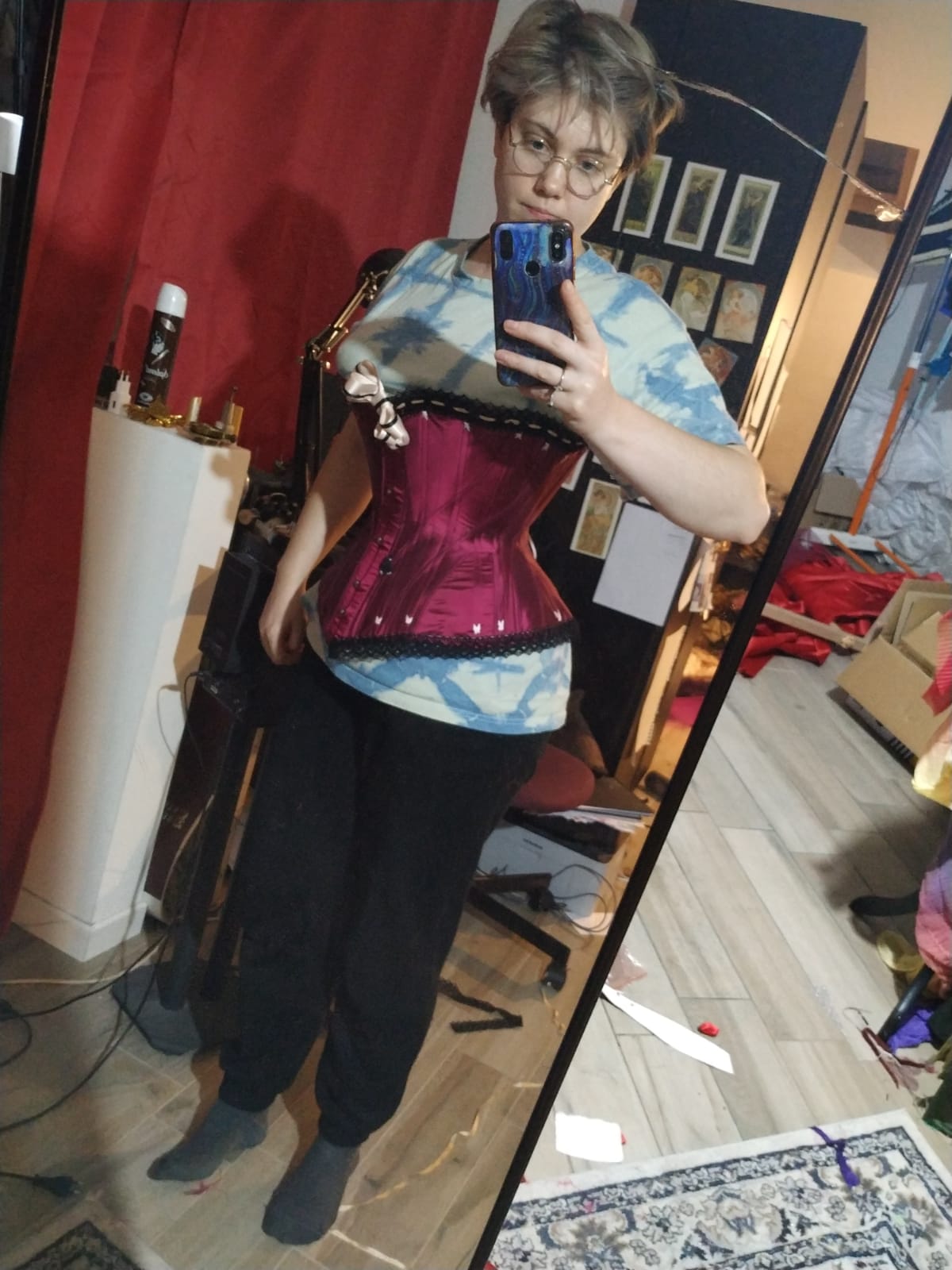 From January to basically the end of November the panels remained cut in a more or less precise way. Waiting for me to decide what to do of them.
I needed the right corset. And I wasn't happy with what I had. So when I finally made the silk magenta one, I took the project in my hands once more.
I chose to keep the four seams, as they were a beautiful unusual thing. But I created the dress as a skirt at the front, with a deep plunging V. Maybe it's not the most historically accurate solution, but this dress was already quite different. I did what I had to do to make it work for my body, without altering what made it beautiful.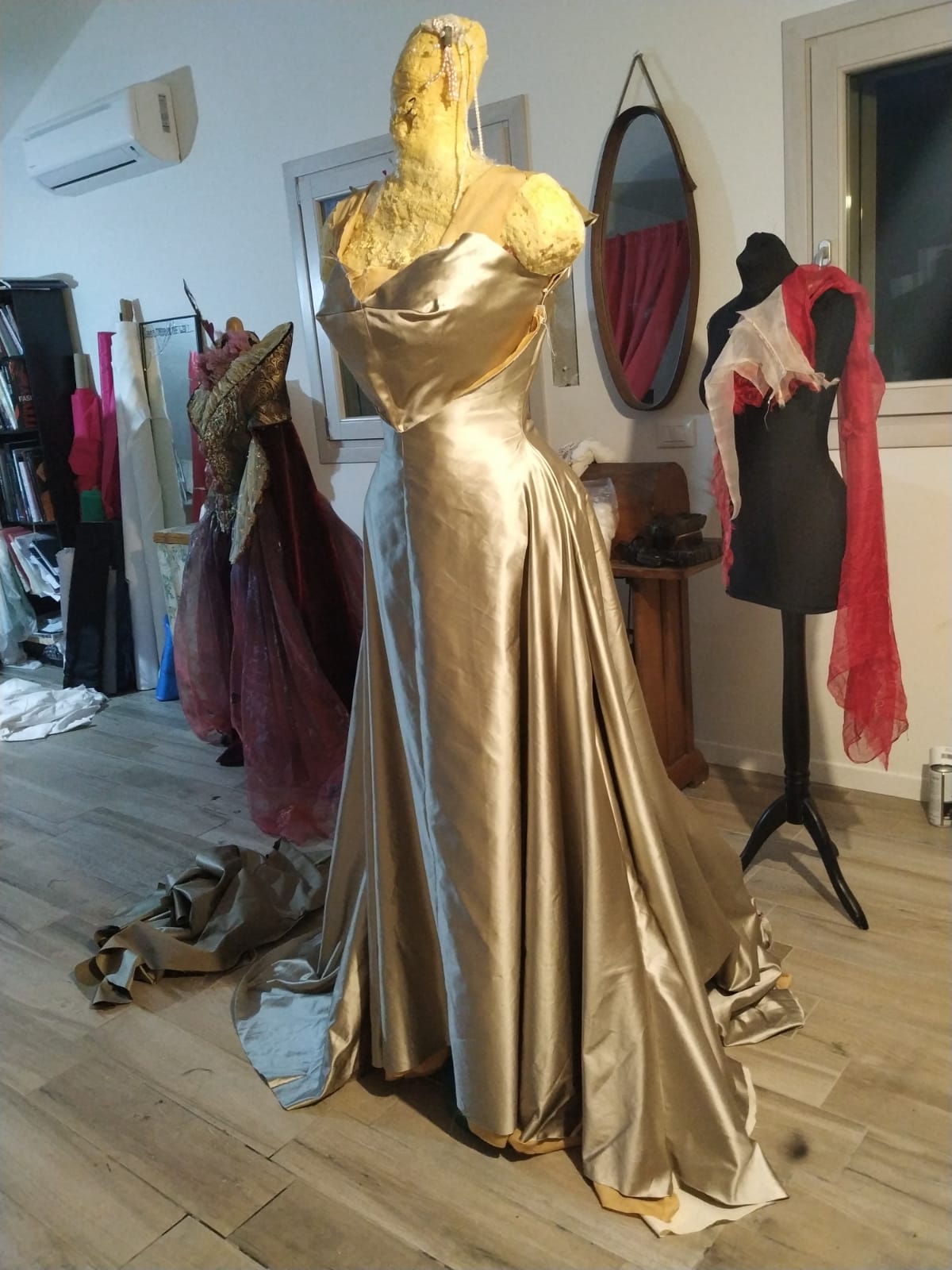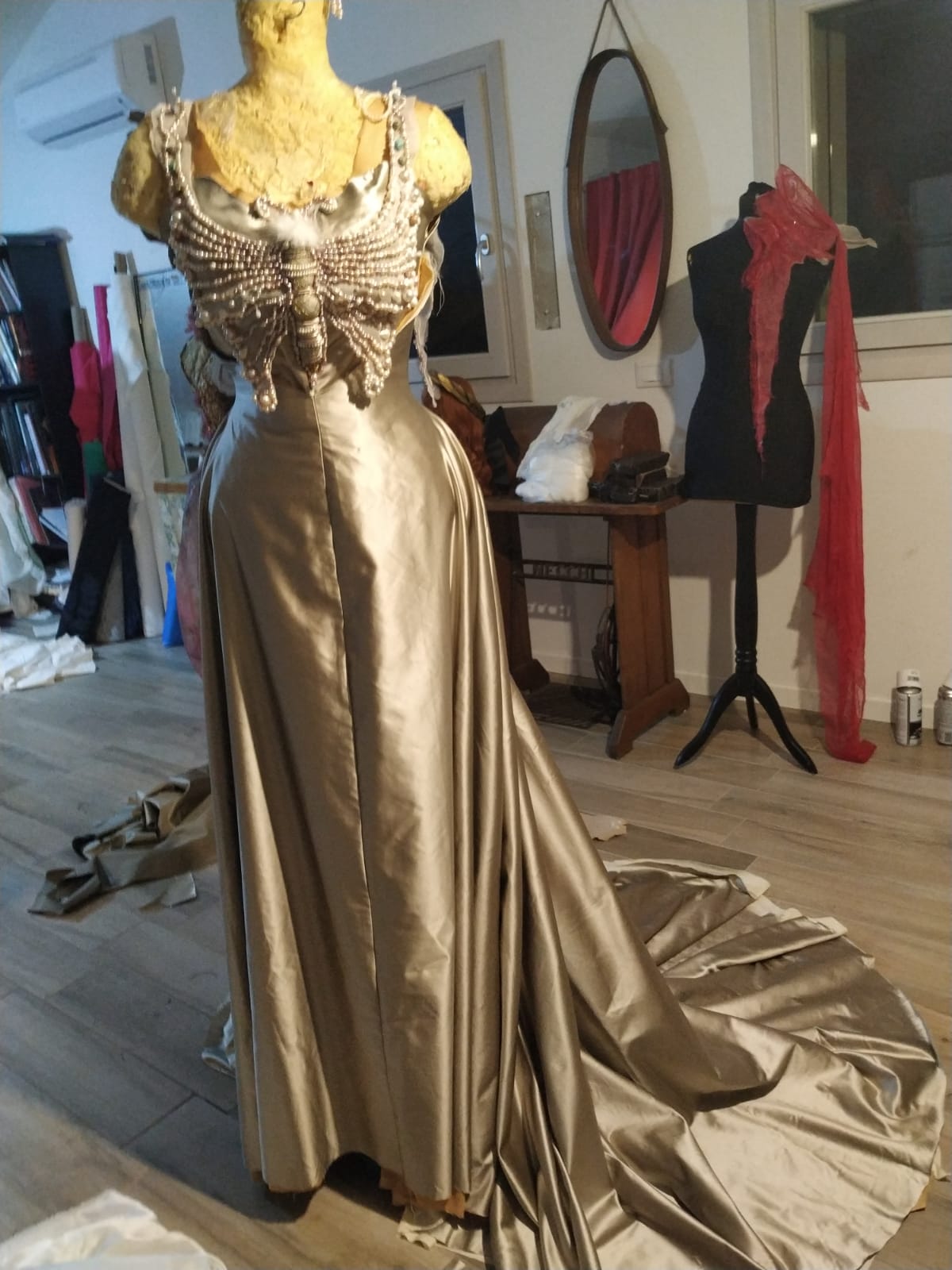 With this solution, it looked perfect. I have to confess that for a couple of seconds I wanted to close it, make it a Charles James-ish modern dress and stop. Because that fabric and that cut…
But I forced myself to put to good use the embroidered butterfly I had made after I purchased the fabric.
I made it over silk organza and silk tulle, with a mix of freshwater pearls, glass pearls and beads of various type.
I tried to replicate the effect of the original one, without getting crazy about the size of each and every pearl.
I then finished the top with silk tulle draping.
I hemmed the skirt with piping. But I kept it much smaller than the original one. The fabric was already stiff enough, and I didn't need much more support, considering the lining and the facing.
The dress is lined with chinz light brown cotton sateen, as originals of the time. It is not boned. As bones would have been visible.
I still need to add the hooks to close the back, and to find the pearl tassel I have lost since February, or to make a new one.
And then take my extra long leather gloves (yes, with these dresses there has to be no space between the glove and the sleeve, no elbow length gloves, nor dark ones), my fabulous sortie de soir and take some pictures!
The petticoat is made by ET Prettycoats and the princess slip by Dario Princiotta.
Let me know what you think in a comment!