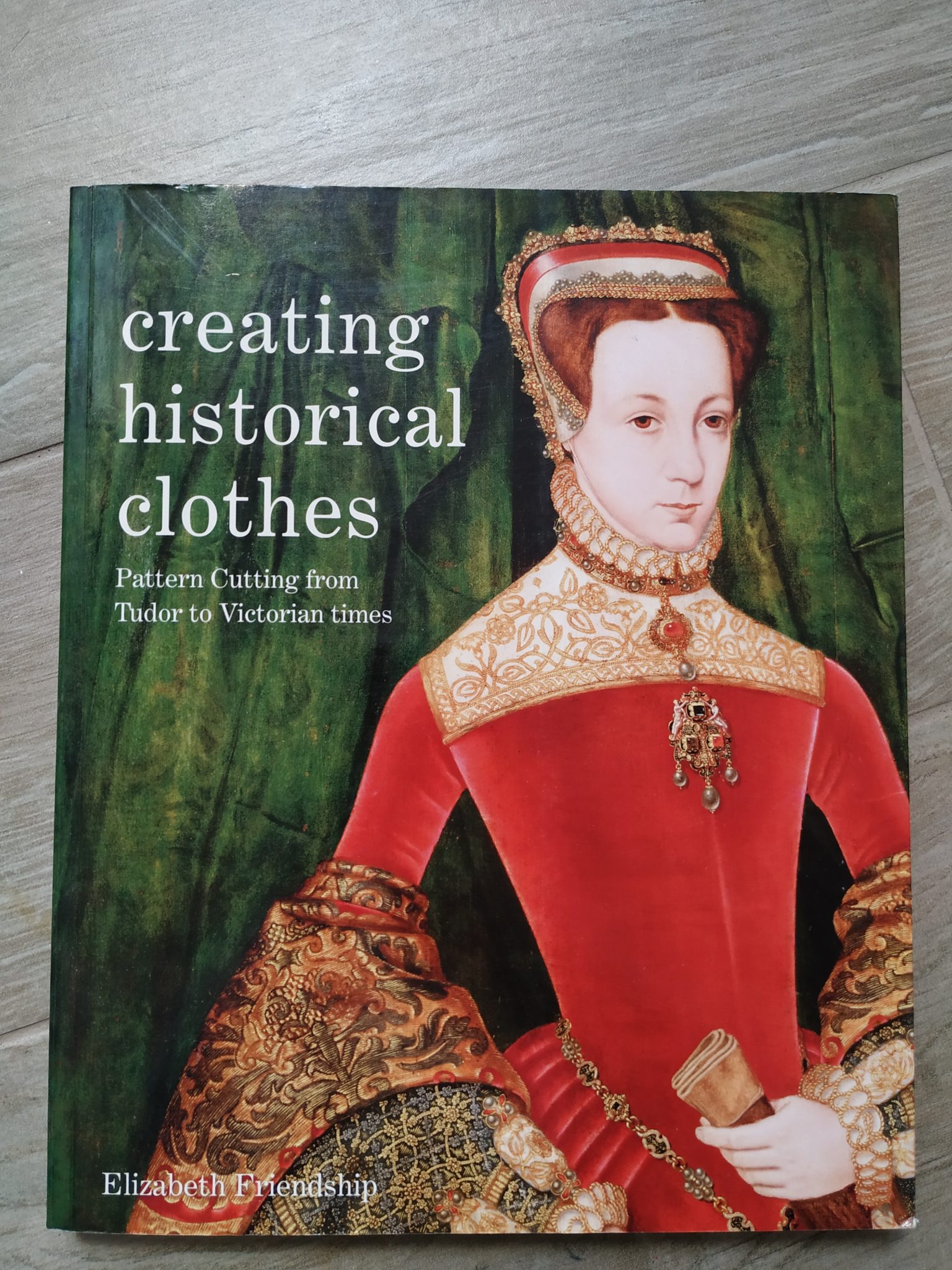 Book review: Creating historical clothes by Elizabeth Friendship
After many of you asked for book reviews on instagram, I finally decided to start.
I chose this one to start, as it's maybe one of the most helpful a beginner or intermediate can find. Is it perfect? No. Is it all you're going to need? Absolutely not. But it's a very useful tool that can really speed up your learning process and improve your results by much in short time.
How will these reviews be structured? Here's an outline of what I'll consider on these reviews:
what the book is about
treated subjects
structure of the book
who would find this book useful
what I wish was included or made in a different way
what you might expect from the book and is not there
The last two might look similar. However on "what I wish was in" is about something that makes some confusion, or that is lacking. The last one is not about something missing or that I might have liked made differently, but just about informations that one might expect to find and are not there because they would require too much space, or an entire other book. Those things that have been reasonably left out, and that you may want to know are not included, in case you purchased it and expected to find them.
This book will teach you how to create costume patterns, from Tudor to Victorian. It will give some instructions about some structural undergarments. You will make the patterns starting from a basic modern pattern you'll be guided to make in the first section. Some basic instructions on how to sew the mock-up are given.
Female costume only.
You will find instructions to make the following patterns:
basic bodice
basic straight sleeve
fitted sleeve
two piece sleeve
basic skirt
women's basic trouser (which is not needed for any of the historical patterns that will follow?!)
sleeve variations
A line skirts
flared skirt
late 16th century stays (though they're described as corset..)
bodice based on Holbein's drawing
mid 16th century bodice
bodice with stomacher
bodice with curved centre front
loose gowns
16th and 17th century sleeves
farthingale
bum roll
16th and 17th century skirts
early 17th century bodice
1630-45 bodice
cuffs
1655-1665 bodice
bodice with tabs
1655-1670 bodice
1655-1670 sleeve
loose jacket
mid 17th century skirt
basic stays (once again described as corset…)
basic 18th century bodice pattern
basic sack-back gowns and jackets pattern
stomacher
1700-55 sleeves (without corners? They look quite modern to me)
1770-85 bodice
various sleeves
hoops
paniers
18th century skirts
1800-1820 bodice
1800-1810 sleeves
1825-35 bodice
flounce collar (bertha?)
gigot sleeve
beret sleeve
flared skirts
dropped shoulder bodice
1850-60 sleeve
1870 bodice
1870 basque
hoopskirt
bustle
cuirasse bodice
1890s bodice
second half of thr 19th century sleeves
It will also include some adjustments for larger busts, how to move darts, lower necklines (also how to make a strapless bodice, which you won't need to make any of the following patterns), and some basic drawing techniques at the very beginning.
After a short introduction, some basic drawing techniques are given. A bit of this and a bit of that, from drawing ellipses, to mantua maker stitch (I'm still wondering why they included this single stitch and no further sewing instructions).
After that, there's a measurements chart you will need to make the basic patterns, both in imperial and metric measurements.
Then there's the basic pattern section, where you're given the instructions to actually make the basic patterns you'll need to have as a starting point to make all the rest. Except for the trousers and the strapless modern bridal bodice, which I don't know why have been included in a book about female historical patterns.
This is as sort of giant introduction itself to what the core content of the book is. The second part of the book is divided into centuries. In each, there's a short description of how the fashion changed, and after that you have the instructions on how to alter the basic patterns you made before to obtain a historical looking one.
Who would find this book useful?
I think this book could be very helpful to the beginner, and quite helpful to the intermediate. I have found the patterns made with this method to fit very well on me, and they need very little adjustment. However, always make a toile, as they suggest too.
However, if someone is experienced and strives for top historical accuracy, this might not be worth buying. There's no knowledge on originals that you can't find elsewhere, should you not care much for using patterns. And the method is modern. I think it could help much someone who's trying to get closer to the historical look, but if you're experienced, youl'll find some differences between original patterns and these, for example in the 18th century sleeve and stays. These are a good starting point, but htere are missing nuances. Small curves here and there that identify original historical patterns. And proportions are modern. You can get a very good costume out of these, but all those details, such as the smaller back, the shorter shoulders that we can see in museum garments and all those little things are missing.
What I wish was included or made differently
I wish the trousers and strapless bodice patterns would have left their space to original patterns. It's less useful to have the pattern for some optionals, in my opinion, than having the real reference to work with. And it would make the reader understand much more what he's aiming for. After all, this is a modern method, not how they made patterns in the treated centuries. So you need somehow to fill this gap.
I wish there were more details of paintings and originals, more reference, to say it shortly. Some books are listed at the end, but in any case I wish there was more of that in this book itself. It would have been much more useful than a pattern for modern trousers.
I wish there was a bit more of international fashion, especially for the beginning of the historical part, where everything is very Tudor-oriented. Also listed suppliers are only listed for UK and USA. Well, I don't need to have a japanese supplier, but there are suppliers in Europe that could have been listed.
I wish stays were not described as corsets. This is something I wouldn't want to read from someone writing a book. I wish there was a corset pattern, as you really need one for victorian clothing.
I wish there were more instructions on how to assemble and sew things, or none at all. There are some things here and there…but not enough to guide someone trough all the process. At this point, it would have been better to keep the book about patterns only.
What you won't find on this book
You won't find how to assemble and make things, nor which fabrics to use, in detail. You won't find how to place your pattern pieces on fabric, you are only told to cut on folded fabric and to use weights.
You won't find the patterns to the undergarments you will need. You won't have patterns for shifts or petticoat, just the main structural things. If it has bones and hoops, you get  the basic version. For padded stuff, you only get the basic 16th century bum roll.
And there's no victorian corset pattern. They listed several pair of stays for different eras, as corsets, but when it comes to the corset, the book abandons you.
Consider this book a book about making your own patterns, and nothing else. For that, it's great. It guides you through understanding how a mattern transforms according to sizes and different shapes, and that is very useful. Without this knowledge, you can't get rid of commercial patterns. And it's what it's supposed to do, after all! So it's a good book. I just wish they kept the extras for themselves and added more reference. For that, the various patterns of fashion, combined with this book, will be your magic wand to get from costume to clothing, as this book can creatively fill the gap of sizing those patterns to your measurements. Take the shapes and proportions of Patterns of Fashion, and start using them side by side with this book. With time, it will do wonders.