Probably all of you know the melody of Der Holle Rache. That nightingale virtuosity of ah ah ah ah aaaaah makes its way in your mind even centuries after its creation, and stays there. If the title doesn't ring a bell, you probably know it for some commercials. Its composer was Mozart (Eine Kleine Nachtmusik, allegro K 525 starts playing in your head), and it's from Die Zauberflote.
But before the link to the video, I have to say I've always been in love with the character not only because of the unforgettable music, but also because of the costumes. Therefore I give you the link to my favorite costume of hers. It was my inspiration for the black swan costume as well.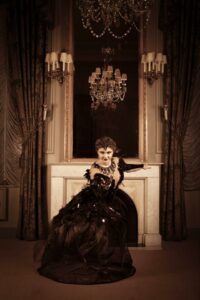 It reminds me of the Bene Gesserit sisterhood in Dune movie: shaved foreheads, french hoods (with proper veil), dark colors and transparence effects on the shoulders.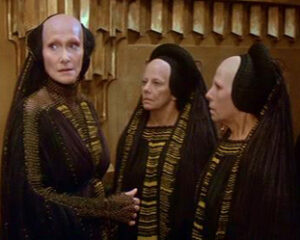 Here you can see the costume. I have to confess I know very little of singing, so don't blame if I chose this version because of the costume.
Diana Damrau – Der Holle Rache
This is why I love this character. In the end I had to make a 17th century-ish gown, matching my fiancé's. His had to be the Sun, and I wanted us to look like a couple, so here's the Night. I know Mozart didn't live at Louis XIV court, I don't pretend this costume is plausible as realistic: it's not. It's made of lurex soutache, synthetic tulle, cotton satin. Nothing to do with a proper silk reenactment gown.
However, to get the period look, one has to know how the originals were made.
If you want to see some historical reconstruction, with the purpose of making it as close to originals as possible, you might be interested in the blogs I studied before starting my gown:
The Golden Thimble , my dear friend, who always helps me keeping things accurate enough to look good. We made these two dresses almost together, and hers struggles to be more realistic.
Before the Automobile , always flawless and instructive.
Walking through history with Jasper and Angela , which always provide for step by step albums for each work, out from paintings or originals.
Now some reference.
I wanted it to be blue like the night sky, and to have something baroque. While looking for the right idea, I went through an exquisite golden baroque gate, and I decided the dress would have been the night sky seen through that gate. The original project had ostrich feathers ironed and colored to mimic rocaille effect on metal, but I wasn't able to give them both their right softness and the metallic shade, so I made them, and thrown away. They were many, they were quite expensive, I made them awful. Shame on me.
In the end, blue and gold. As last year, and the previous one.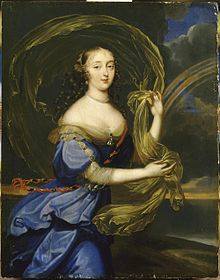 Madame de Montespan wearing a blue gown with golden organza.

A later mantua, with the golden filigree effect I like.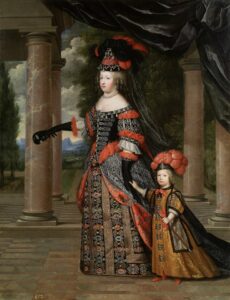 Louis XIV's wife, with a gown trimmed with dyed ostrich feathers. Just to say I didn't make it up.
In the end, this was the project: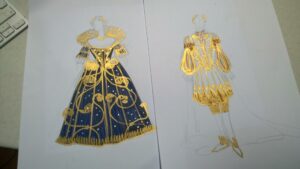 In the shape of a Christmas card, here's the first project, to see how the two dresses would have worked together. Gold to join them, night blue and ivory to give each one its identity.
Trying to make a clear drawing of the soutache design, and the effect of the tulle overlay, I got this.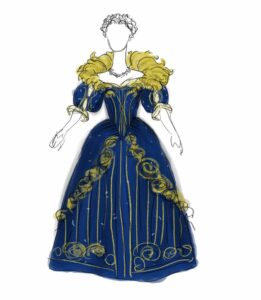 I was still thinking of those feathers.
I started making the bodice. Cotton inside, linen on the outside, making a sandwich with flat reed boning.
Concerning that, I decided for the shortcut, as it's not an historical reproduction.
I machine stitched boning, and I handstitched the outer layer, embroidering it with soutache (machine stitched) first and then handstitching it to the boned bodice.
Pattern is from Corsets and Crinolines. I decided to make it full boned, to close it with spiral lacing on the back only. I also rarely scale the pattern. I re-draw it on my measures directly. When enlarging a pattern you only use your height and one measure width to find proportion, but that leads to fitting problems, as we have many measures. I find it faster for me to draw the pattern again, rather than printing it, and then making maybe two toiles to make it fit properly.
I wanted a longer pointe. I made the bodice and then adjusted shoulder straps.
Reed is quite nasty to work if you make the channels first and then insert the bone. If channels are too large or narrow it won't work, and if you don't work right the points it's hard to slip them in. Also you have to make a sample and calculate how much you'll need to enlarge the pattern to compense the 3d effect.
So I stitched the bones in, using a zipper foot. I cut the cotton in the right size of the pattern, and I started from the center. The flat side of the reed lies on the inner cotton layer, and the round one lies against the outer linen one. The outer layer follows each bone, making a corrugated effect, the inside stays flat, keeping the size. You don't have to insert each bone, you can cut each one while making the channel.
This is the result. I wanted it to be ready as soon as possible, so I didn't worry about some not very eaven channels. It does its job.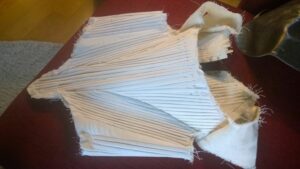 Then I attached soutache according to the design and the stars rhinestones according to a star map.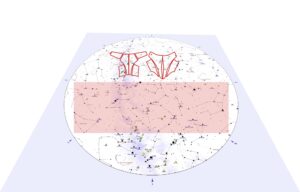 Northern star on my shoulder.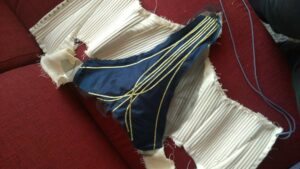 And the finished bodice, to be hemmed:
You can see the golden soutache on the tulle. I made it basting the tulle on a large sheet of tissue paper with the design drawn symmetrically, and sewing through them both, with paper as a stabilizer.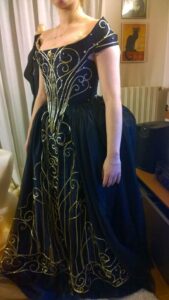 I attached the skirt, and then sleeves.
Sleeves are different from period ones. They're more like 1840s sleeves, cut from a wide disk, and with the armhole not centered. I didn't want the volume of cartridge pleats on my elbow. I flatlined it with tulle, attached just the visible organza parts, the rhinestones and then I went with cartridge pleats on the back only.
As this dress is a cheat, I used a qick trick to calculate the pleats. I simply pinned the beginning and the end of the part to be pleated to the bodice. After that I measured half of the fabric to be pleated and half of the part supporting the pleats, and pinned them together. I continued like this until I had very even and as narrow as I wanted pleats. The inside hides a thick starched tape to keep them very full.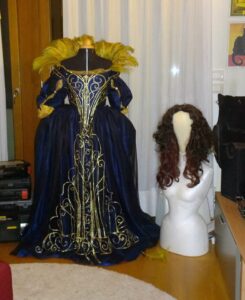 As you see, feathers are not metallic, nor neat. So I went desperate for a solution.
I made a first attempt with golden optical fiber, making a net with a rhinestone on each crossing, but it was too thin. We tried to mimic the metal filigree in Tale of Tales, in resin, with cast, without success.
I went then for fake leaves. Without finding interesting ones.
The solution came to me while shopping at Tiger, in a lasy afternoon. Their toothbrush holders with fake grass were perfect. I cut the grass off, sewing it to a tape, and spraying it in gold, then I attached it to the upper edge I hand hemmed with bias.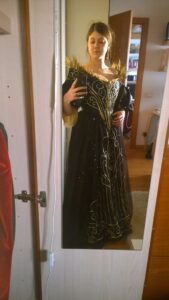 I'm still unsure if I'll use the bumroll or the quilted petticoat.
For hair, I'm trying some hairstyle from Versailles TV show, similar to the one the queen has in Tale of Tales when wearing her wedding gown.
Concerning shoes, I had them from a dance footwear shop. I made the pattern with transparent film for food and adhesive tape, and covered them with golden brocade, sewing it to the sole by hand. I hid the edge with trim, and closed them with ribbons ad filigrees.
Stockings are made cutting a pair of thick collants.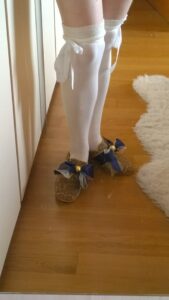 I took some embroidery ribbons, that I have no time to embroider before the ball. Which will be on the 16th April.
Pictures of hair and the complete outfit will come soon!