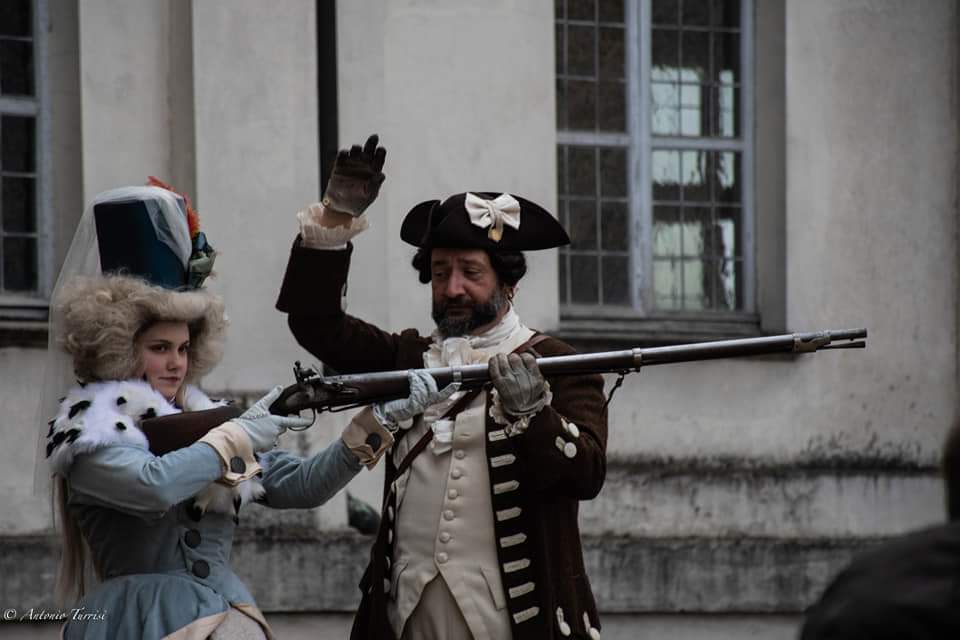 Embroidered velvet jacket
After an amazing reenactment experience with Le Vie del Tempo, I decided I need something warm and possibly with a high neckline, just in case. I was just a guest, I do not know if I'll be there next year, but at the same time I need something for the cold weather, if I need to go to Venice for the Carnevale in a bad weather day. As I am selling the Vestier painting's robe en chemise, I need something that allows me not to catch a cold.
And, most of all, the top of the ensemble will be adaptable to both 18th and 19th century. usually, I'd consider this idea pure insanity. But in the 1870s and 80s there was a sort of return of some rococo elements. Mostly, they were embroidered jackets that recalled the ones men used to wear in the 18th century. Yey!
So take the bum roll off, get the bustle, and a new skirt, and it could work.
Now it's the time for some images. Lots of originals. First, men's jackets from the 18th Century. The cut of the coat changed much over the century, from very wide cuffs an no collar, to tight cuffs and collars than originated the huge ones of regency time. Then the lower part of the jacket started the century wide and wider, to end it in the back, the ancestor of the tight. What I eally want to be the center of the ensemble, is the embroidery, with floral motifs, along the front closure.
The following originals are in no particular order. I will focus on the teal velvet one, with silver embdoidery. These jackets were usually richly embroidered in colorful silk threads, or with intricate gold or silverwork, including sequins and sometimes bullion, keep this in mind.
Now let's go to what women used to wear for riding or pretending to ride, just to have a nice frock in the theme of the day. Hunting had specific colors and dresscode, and this gown will not adhere to them. Besides, would you go hunting with a richly silver emrboidered jacket? You don't want something you have to be very careful about, right?
And now to some 1880s jackets and outfits and one from the 90s. Besides the huge sleeves of the one from the 90s, the others are quite close to the striped taupe redingote with waistcoat seen above. The first one almost perfectly adheres to late 18th century styles for men. The second is a twist, so it's likely that other twists were made to get the fashionable victorian look.
For the jacket, I want some soft, short piled, oxidised-copper-color velvet.
For the embroidery, I have bullion and silver flat sequins in mind. because proper and complete silverwork is not something I can handle easily. An, most of all, I have found some nicely made bullion appliques I can take apart to shorten the crafting time, so I'll only have to work a bit around these, to create the illusion of something that is not appliqué.
I will make the rest, for both the XVIII and XIX century options, in ivory cotton satin. I will think later about making some more accurate silk skirt and waistcoat.
We should now cut the article, and start all over. As a long time passed since I started thinking about this outfit, and my ideas changed.
I ordered most materials, I dyed some, I ordered something like two bedspreads and two matelassé fabrics before finding an old bedspread that had the right pattern and color to mimic a quited petticoat.
The original project is gone. I am turning my husband's 18th century coat into the victorian reception gown mentioned above, so I didn't need a double purpose thing anymore.
What did I keep? The palette. The velvet. The shoes (those costed a lot). The century.
Blue riding habit. Gallerie des Modes et Costumes Français. 56e Cahier de Costumes François, 50e Suite d'Habillemens à la mode en 1787. nnn.349
"Veste retroussée à l'Amazone…" French, 1787
After long thinking, this came across. The color combination was popular at the time and there are several others riding habits I could get close to. I thought about the embroidered ones with the low neckline, and other typesdecades. But in the end I have kept the bullion embroidered appliqués for other stuff and turned to something more simple, to excercise with historically accurate techniques.
I chose to have a quilted petticoat, and an other type of hat from the fashion plate. I also had a very different wig, ready to use and in a perfect color for the rest, so I just retired it from the etsy shop and used it myself.
I wanted some less used hat. Something not hard to make, and yet original, striking. That's usually where Wilcox's "The mode in Hats and Headdresses" proves to be one of the best books I've heaver purchased.
These are riding hats. Have you ever seen one around? Nope. So I really end up wanting one. Moreover I end up finishing the hat even before I have a single piece of the outfit ready.
Yes, on the right it's Marie Antoinette. I'm not one of those getting crazy every time someone mentiones her, but that outfit is just amazing.
I have taken the supplies with me this summer, to have a loooong time to work on them while resting in the dolomites.
Unfortunately I stumbled upon the need of someone helping me to pin stuff on me. So I had to wait until I got home to complete the jacket.
It was built mixing some of the techniques used in American Duchess' book, and some techniques used for men's clothing at the time. For example both jacket and waistcoat are lightly boned.
It is all hand sewn, except for the collar.it's made in cotton velvet, hand dyed, flatlined with linen, and lined in hand dyed cotton satin. I know this isn't the most accurate choice, but in the end I think it worked.
The shirt is in vintage linen, all hand sewn except the side seams and the sleeve length. I'm quite proud of it.
The waistcoat is made in vintage linen and silk, once again with side seams by machine and all the rest by hand. I was a bit puzzled by how the pieces could have been designed to work together, but Merja from Before the Automobile helped me figuring this out.
Laurie from Daze of Laur was also of great help.
I especially loved embroidering the buttons, even if they're not among the most precise one could see around. But they give some extra detail and depth to the thing.
The faux cul is made after the description in Patterns of Fashion. I padded it with fabric scraps, but it made it very heavy, so I may replace it with something else.
I tried to recreate the ermine ur with synthetics. I know it doesn't look the same, even if it's high quality faux fur (leftovers from Dany's coats), but that number of ermines was out of my budget (this said considering I only use vintage fur or fur from animals that are killed for their meat). Every little black spot you see should be an ermine tail, so the number is very hard to come by.
I tried to sew the faux fur into tails, to comb and weather the pile to make it work. I'm not super happy, but unless I come across a cheap vintage white-something fur collar, that will have to do. I also think the original illustration is supposed to be a fur lined jacket, at least for the bodice. Mine isn't. I wanted to be warm and cozy, not sweating.
Two days before the event I ended up having some more time than I expected, so I decided to try to make some accessories.
A dear friend gave me some extremely supple lambskin in the palest blue, and I chose to make myself some nice gloves, especially considering I'm going to make some evening gloves for my victorian evening gowns. I have to imrpove my technique and understand how those devils work.
Surprisingly, it was much easier to make them from leather than fabric, and hand sewing them. They're not perfect, but I like them.
I had no time to embroider them, so I chose to paint the leather.
The morning before leaving, I realised I didn't have the handkerchief to pose like the illustration. So I cut a linen leftover, and tried some whitework embroidery.
It's surely not the finest example of a monogram, but unless you see it up close it can give the idea of somtheing quite posh.
So this is it!
Probably not my brightest 18th century thing, and also a proof that hand sewing things doesn't necessarily lead to a perfect result. But I still enjoy the final overall look and style!
What do you think?