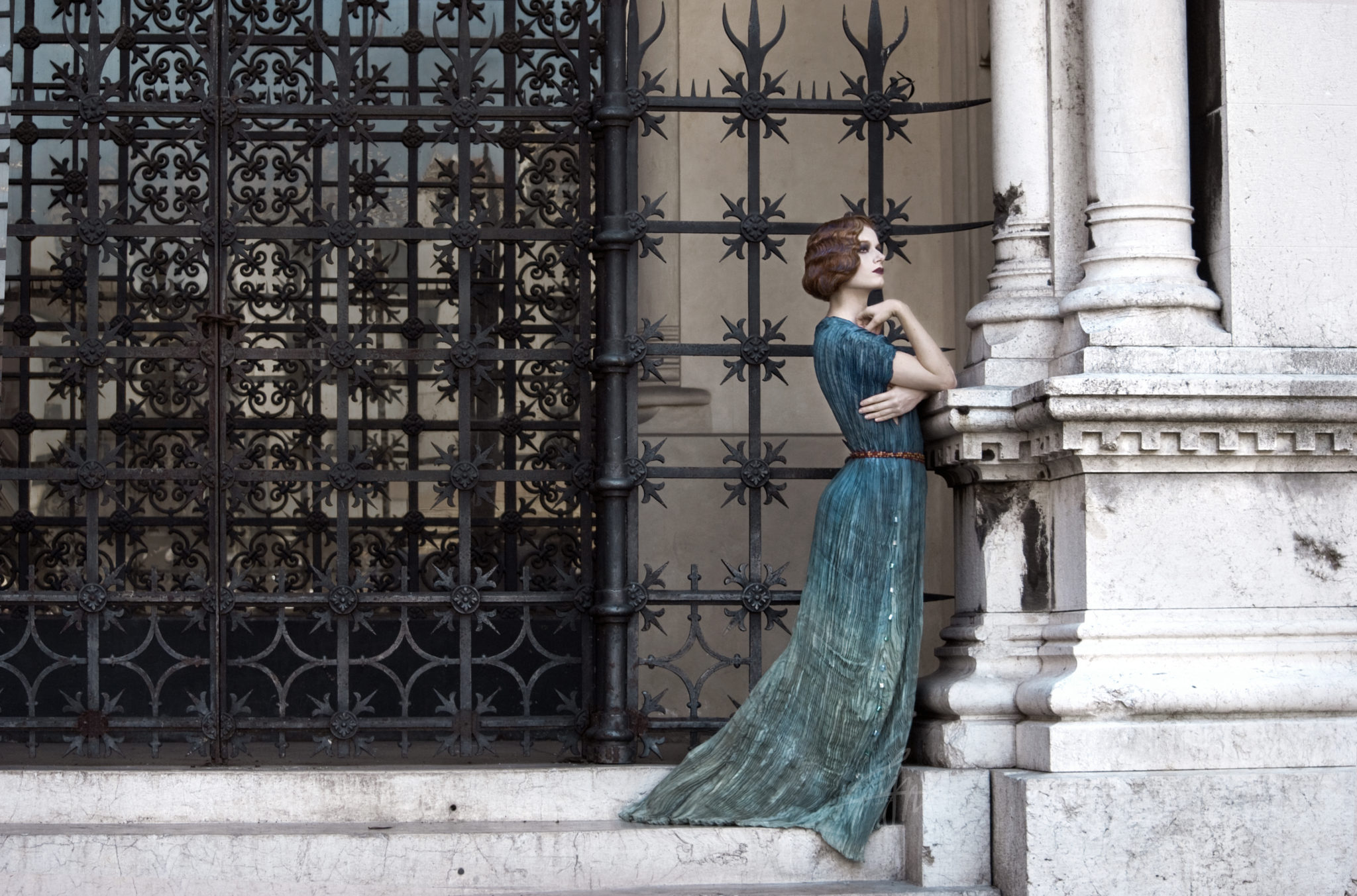 I've been thinking for a while about it. I totally want to make a fortuny pleated gown.
However, even if at that time my silhouette in that dress would have totally rocked, as it's what it was made for, nowadays it would be seen nicely on skinny girls only. That's why I'm adding a modern twist to the first attemp, inspired by Troy's costume (inspired by Fortuny's gowns, inspired by ancient greek statues). I have some silk saille, not the perfect fabric, but a cheap option for a test. If it works' Ill move to silk satin or taffeta.

It has to be hand pleated. I have used this method for the first test dress…even though it holds a minimum pleat from washing, you need to re-pleat it anyway. So in the end, after I made the first dress with the wider pleats at the bottom, I re-dyed and pleated it for a more correct look.

Naergilien's crashing silk tutorial
I want it to have the colors of the Maldives seen from the plane.
The skirt will open in larger and larger pleats, resembling knife or soleil pleating at the bottom, opening with the wind. The bodice will be in Fortuny pleats.
I'm thinking of making a cardboard matrix, to make the process faster.
What makes Fortuny pleating different from common pleating? the fact that's wavy and irregular. Therefore the cardboard can only be a guide. Broomstick or mushroom pleating are not the same, it needs to be made the old way. By needle.

I'm lucky to live not far from Venice, I can be there in an hour, and pass the afternoon at the Fortuny Museum, if I'll need to review the theory. If you happen to pass by Venice, visit it. There's also a wonderful display of patterns and print blocks and also the patent of Fortuny's original machine. However, even if we all wished it to be a machine for faster pleating, it's just for making the pleats wavy, after they're done by hand.
I got the silk, I got the needle. Now let's get those insomnia issues useful…
Fortuny's work is surrounded by mystery. But even if his colors were magically bright and his effects of fabric could come from a wizard's hand, I trust they have been made by a lot of venetian women in his laboratory, in the Giudecca, Venice, where the gowns were supposed to be shipped back to be washed and re.pleated for free every time it was needed.
There are no identical delphos. Even at the Fortuny museum in Venice, there are differences in the pleating and in thwe wavy effect of each one, some more regular, others less.
What made these gowns so special, in the early 20th century, was that they were extremely light, they were delivered twisted inside a hatbox. In such small space, they could travel easily with a lady, who could put the dress on for the evening without the help of a maid, and even without corset, if she was brave enough. Compared to the huge and intricate gowns back then, boned, with lots of petticoats, and that needed someone to help you dressed in most cases, the Delphos gowns were a bit of a revolution.
I am also a fan of the way Fortuny printed cotton velvet to rise it, to make it almost as damask. But this is an other story.
The first attempt was done.
But I wanted to wear it with a belt anyway.
After I used it for the first time, I decided to dye the lower part darker (the first attempt had a sort of shibori effect, to give it even more depth), always in water shades, and to pleat the bottom as the top. I injured my wrist in doing that, but it was almost worth it.
I forgot to tell that in Fortuny's gowns there were murano glass beads at the sides, to keep the dress down with their weight. I got a murano glass necklace my mom had, cut it, and used the beads in teal and silver and blue at the sides of my gown. I still miss matching ones for the shoulders, unfortunately.
I hope I'll be able to show you some nice pics soon!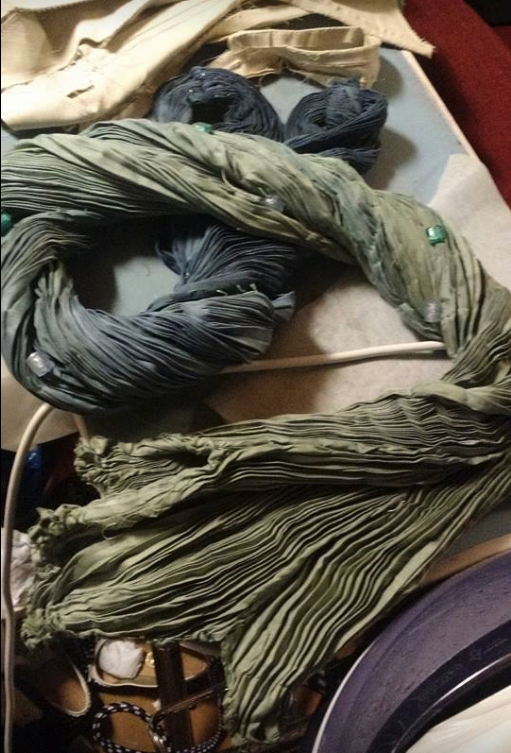 After the result on the ombré dyed attempt, I wanted to try something closer to the original designs.
I got some silk satin, as it's slightly more accurate than the silk saille I got for the first one.
I chose to dye it in a very specific colour, the shade of venetian canals.
The problem with the first pleating was that it was by far too irregular, and the pleats weren't small enough. So I got it to a pleating company, asking for crystal pleats, which are accordion pleats 4mm wide.
I then decided to soak the fabric and re-shape those pleats by hand, to give it a more irregular shape.
Sadly, it didn't work, as the pleats were too regular and large even like this. So I chose to go with the pleating I did by hand the first time, and settle for it until I come up with a better idea.
The pleats should be irregular and very, very small. Something like 3 millimeters each. And they need to be kept in tension while the fabric dries. And they need to be kept under pressure, to ensure the accordion effect at the end and very sharp edges at the folds. In the last attempt they're not just too big, but they don't have a very sharp edge and the width of each panel when not stretched is not small enough to ensure the right fit without the belt.
I need to find a way to keep the fabric pulled: in the original patent, the one for the machine to get the horizontal wavy effect, has the fabric pulled and kept very straight. I think this would be like when yoy curl your hair: the tension improves the result.
I will try again. But first I want to join the panels of this last attempt, assemble it and add the glass beads (modern this time, I will look for real ones when I'll get to a nice enough pleating) and enjoy wearing it a couple of times.
I am also making a sort of coat with leftover silk from the yellow handmaidens. It would be better with cotton velvet, but I'd like to use what I already have for this test. I have dyed it in a darker and greener colour, and I am testing the stencil and block print technique.
At the moment I have tried with acrylics, just to see how it works. They don't hold the pile down and they stiffen the fabric too much. It wouldn't be a problem with silk velvet as in some originals, but I have modern one with chiffon as a base fabric, so it's too soft and the paint stiffens it too much. I will try with fabric colours, and then with some handmade recipes.
Both the satin and the velvet are dyed with chemical dyes. I have overlayed different shades to achieve a nice depth, but I think I will try to use natural dyes for the final project, once I have a pleating technique I like enough.