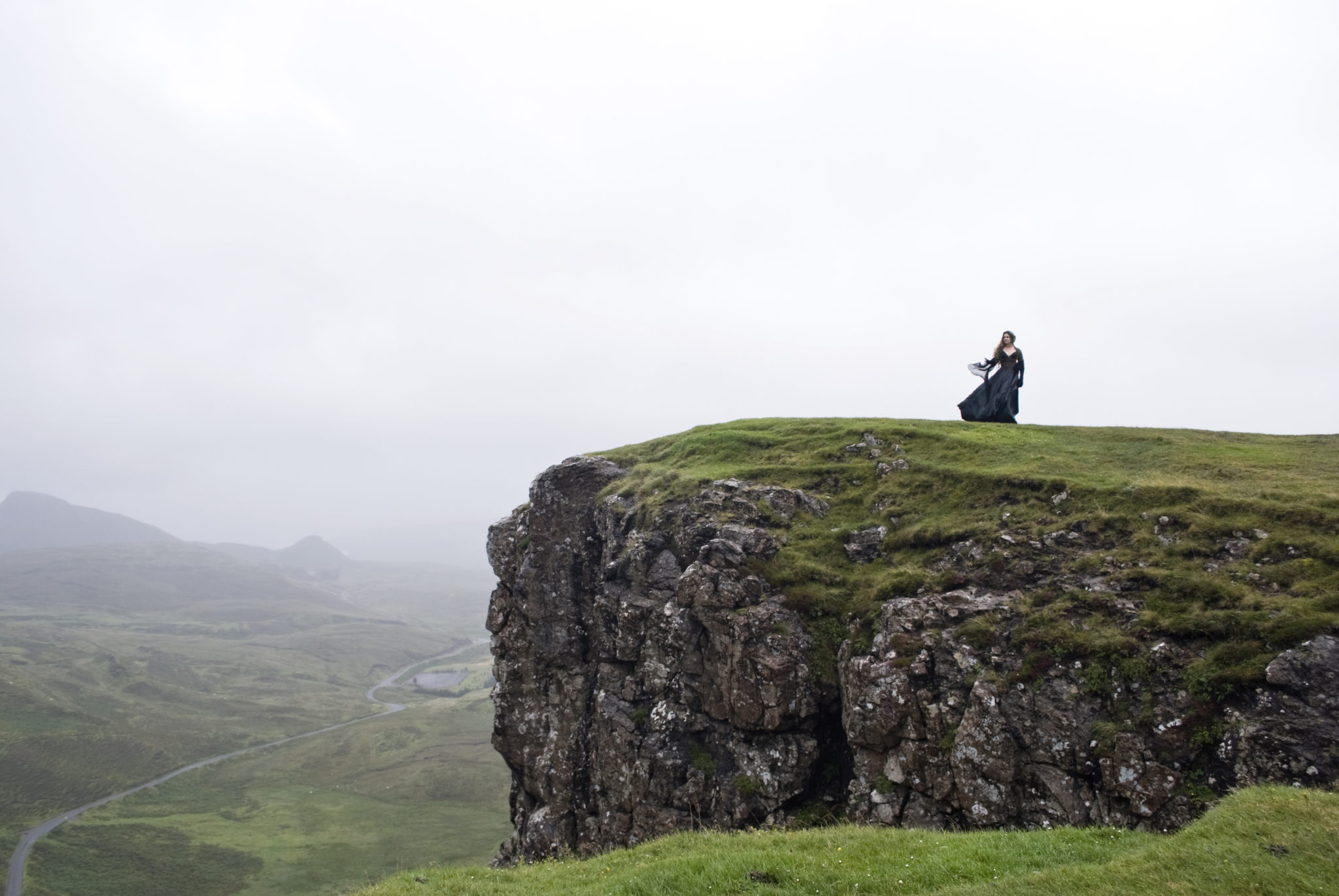 Stardust is not a very known movie here in Italy. However, as I saw it, I've fallen in love with it. In time, I decided to make the green costume Michelle Pfeiffer wears as Lamia, the witch queen.
I made it twice, as I was not happy with the first version.
Much of the informations I had and the HD images were sourced from http://www.costumersguide.com
The first. version was sort-of-low-budget. Not that it was low budget, but it was cosplay, not even close to a replice. It had its taffeta skirt, almost cut right, it had a bodice made out of european brocade, n gold and green, and the trim was just a golden trim. Sleeves were made out of cotton gauze.
It looks nice, and it can look similar, but it's not a replica.
However, I took it to Scotland, and we were blissed with an almost sunny day when in the Fairy Glen, where the scene with Ditchwater Sal was shot.
I spent a huge amount of time on the new costume. And we did go back to Scotland, two years later. We had three days on Skye, and none of them had a nice sun for enough time to shoot. So we decided to go and have the pictures anyway, in the exact spot of the charriot scene, on the Quiraing…under the rain. So they're a bit out of focus because of the rain, there's clouds hiding the back and all the gown is very dark…because it was compeltely wet with rain.
But I like them anyway.
So…the fabric is a saree trim, black and gold.
I have purchased a vintage saree from the 70s, to cut the edge away and make the bodice. The pattern was not a match, but it could work.
Except that a couple of weeks after receiving it, I found at a local store a trim with the exact pattern, in black and not metallic gold. It had sequins on. So I took away all of them, from 15 meters of trim.
The original trim came from topfabrics.com, but it was available in silver only when I started the costume.
The skirt was quite easy. I stiffened the back panels, used a petticoat and a 1870s bustle.
I already had a pair of victorian boots from Victorianboots on etsy, in black suede. The original ones were not in suede, but mine were very close in the shape.
The second hardest part of making the costume was the back, making by hand all the eyelets.
The bodice is backed with coutil and several spiral bones, sewn on the inner layer.
The sleeves were made in a very thin material. I've bought both silk tulle and silk gauze. From the Prop Store I've seen it's a sort of gauze, but there's a scene where it really seems silk tulle, much heavier and less flowy than gauze.
The metallic trim was the problem. It's not a simple trim, it's made by rings and sequins, all sewn on the vertical side, in small blocks.
I purchased silver, gold and copper sequins in different sizes and rings in same colors and sizes, and I attached them to some black tulle. It's one of the msot time-consuming things I've ever done for a costume. And it's the main reason why I would not make it for anyone else, unless there's a considerable budget.
I have made the earrings from beetle wings, as the original, and styled the wig as the original, ventilating blond ahair and golden threads to the already sewn front lace wig.
I have a new fabric waiting for version 3.0, same pattern, but with the metallic thread. I need to dye it from burgundy to black. @Amazoniancos from instagram found it and sent me some.