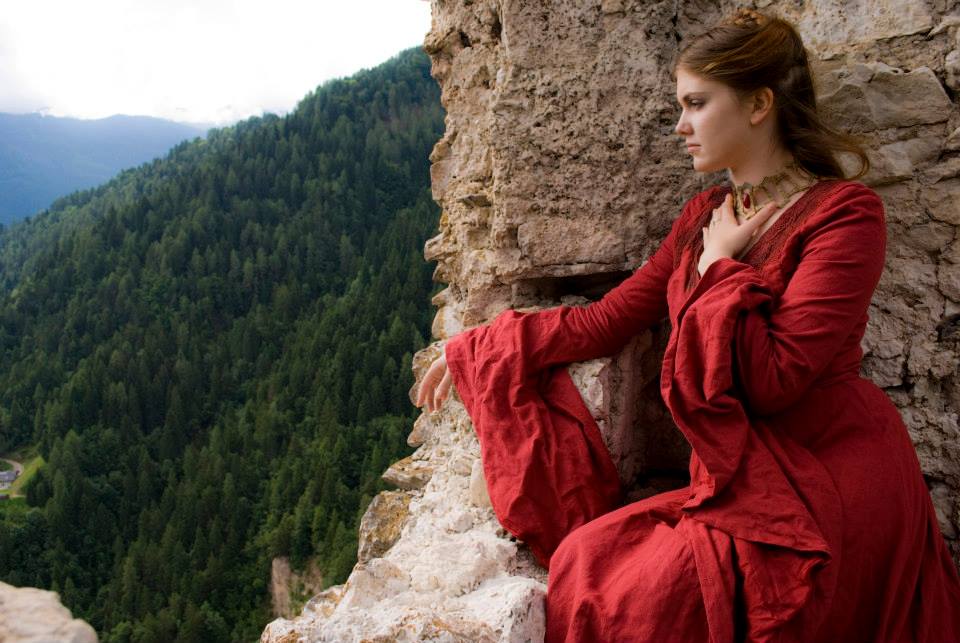 Melisandre from Game of Thrones
This gown too is the result of many experiments. And this too is a second version. The first one was very basic, with red upholstery fabric, lined in the sleeves only.
But as the show went on, more details emerged, and I wanted to make a proper version.
Most of the images I used to make the costume are now in this page, which gathers a lot of sources and infos about Game of Thrones costumes.
https://www.facebook.com/gameofthronescostumingreferences/
The main differences from the first and second version are cut, amount of fabric and type of fabric.
The new fabric is linen, which I sort of tie-dyed to have a vibrant and not solid color, more like something that cracked, and darker at the bottom, as the original one seems to be, from the exhibit. I also embroidered the shoulders to make them look like embers, and burnt the fabric there, to give a personal touch.
I used much more fabric, almost eight meters.
The cut of Melisandre's gown is not very different from King's Landing fashion. It's not princess cut, there are seams descending from the middle of the shoulder seam, to the bottom of the gown. Shoulders are padded, and cut like in period garments, with the sleeve seam to the bodice falls vertically, if seen from the front, rather than diagonally, as in modern clothing. But the focus are the sleeves. Sleeves in GoT are not pointy, they're rectangular. At the bottom they're open, and they're folded back, as they're at least 20cm longer than the wearer's sleeve measure.
The original necklace was made from veg leather. I made mine with a thin foam used to make flowers, and I used a glass drop for the center. I regret not upgrading that part.
It is important that the necklace is not straight, but curved. It's both curved as an arch, when it lies on a table, rather than being a stripe, and curved so that it ies right on the neck, and sits in the angle between the neck, the shoulder and the chest.