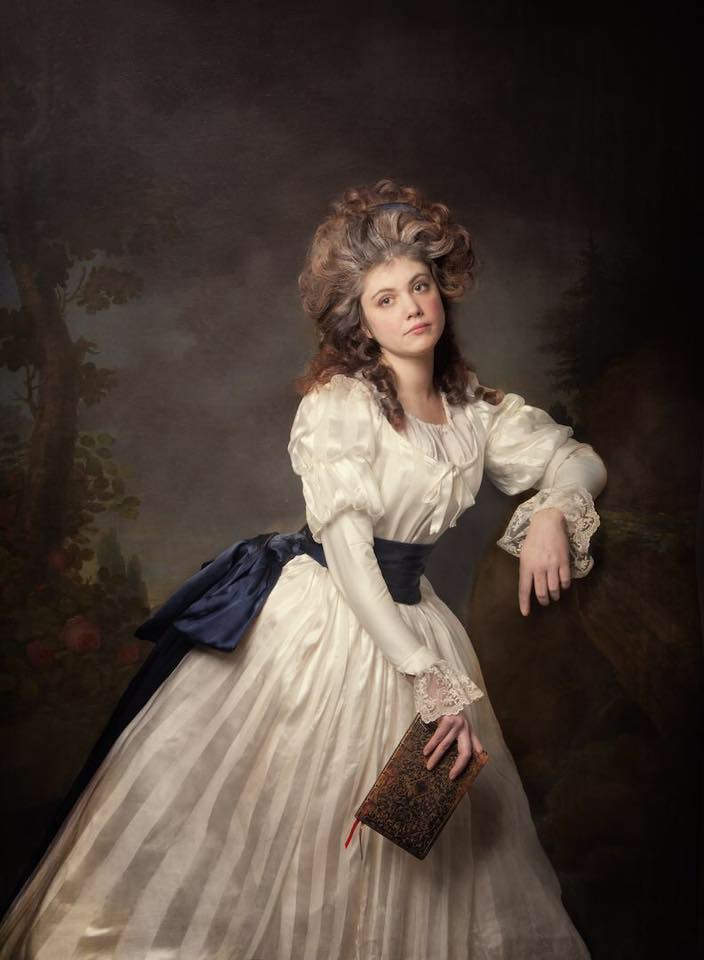 Robe en chemise, after Antoine Vestier's Lady with a book
The first time I've seen this painting, I knew I wanted to re-make this gown.
Those sleeves are so absurd, and the structure, with stays, and the striped silk, I knew it.
Once I've found some striped fabric (the original probably had some ribbons sewn on, but I didn't want to get that close) in silk. I decided it was time to go.
I have been advised by a friend, that it might have been a robe en chemise, and not a simple chemise à la reine, hence the weird look. The back of the gown is built like a robe à l'anglaise, structured, in my case boned with synthetic whalebone, and cut as a robe à l'anglaise.
To match the painting, I decided to make a wird mix between a robe en chemise and a round gown. The bodice looks very structured and tight against the stays, at least the inner part, while the transparent striped fabric looks more abundant and softly draping.
The bodice is constructed so that the back is built like a simple overlay of three fabrics: the inner cotton to stiffen it, the middle cotton satin to give a rich shine and consistence, and the outer organza-satin silk. They're cut together and sewn as one, for the back. Then each seam is boned.
The front is done differently: the cotton satin and the inner fabric are sewn together, making a front opening bodice, closed with hooks and eyes that ends without point, under the belt. The transparent part is cut a bit wider, not narrowing from bust to waist, just straight, and a bit wider than the bust. It's seamed to the neckline of the inner bodice, forming the space for a drawstring, which will be filled by the satin ribbon.
This front part is attached to the back through the back princess seams, the external ones, at the neckline, and at the sleeves.
The skirt is attached to the back of the dress, all layers together. The front transparent part is joined to the transparent bodice, while the cotton satin one closes like a petticoat, with two ribbons to be closed at the back.
The seam is then hidden by a midnight blue satin belt, stiffened at the ends to mjake the loops, and matching the one for the wig.
I have worn the gown with a special hedgehog wig, made to match the painting, and I have combed some of my very short hair over the front.