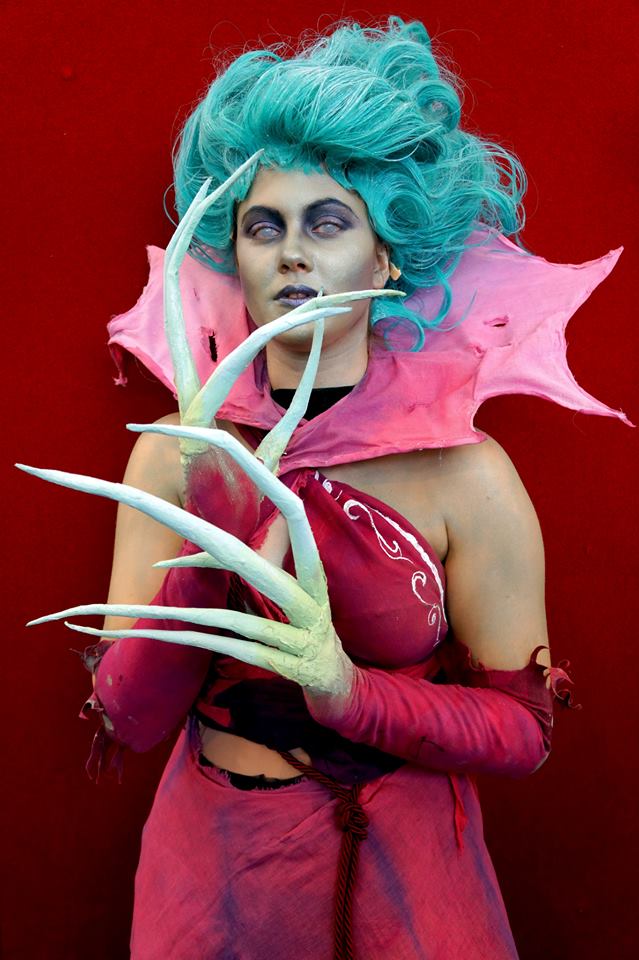 I'm not the videogame type of geek. However, I started playing Dota2, as it was the main hobby of my fiancé, and I decided to try to make the costume of the characted I use most. I thought it would have been a nice challenge to give it the floating effect.
This, more than a replica, is maybe one of the actual cosplays, as there's no real costume to make a replica of, it's all interpretation.
The main help for this costume came from the guy who also made this website and helps me managing it. He was able to send me the textures and patterns of each part.
The three challenges were the hair, the collar and the floating skirt.
Many cosplayers make the skirt with just a black petticoat. But it doesn't give the fading effect. So I dyed some cotton gauze in different shades, and glued it to a black crinoline fabric skirt. Seeing the costume now, I think it would improve with some steel boning in the skirt, to keep it wide.
The wig was one of my first attempts at wig styling, and with some hairspray, needle and thread and letting it dry upside down, it was quite easily done.
The collar is a bit transparent, and it's made with two muslin layers and some wire. The main problem is keeping it standing, with such a tiny base around the neck. Pinning it to the wig will be the option, if I decided to wear it again.
Fingers are maid out of thin rubber, latex and acrilyc color.
I should improve the gloves on the arm, they're cut right, but theatrical glue was not enough to keep the flames up.